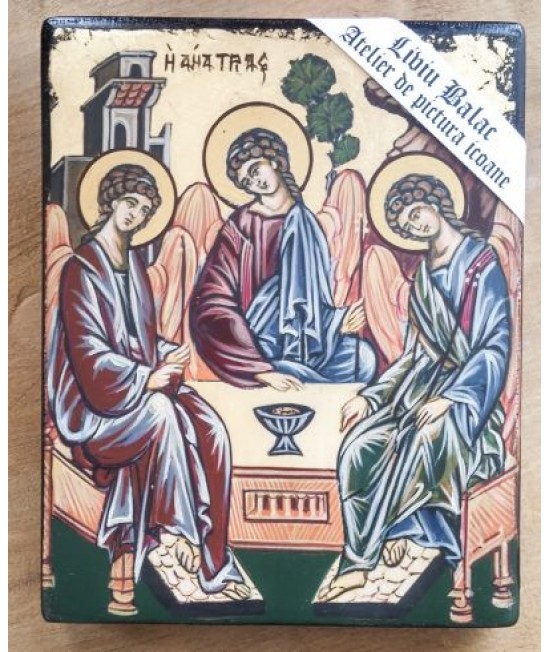 The Holy Trinity (Andrei Rubliov)
Hand painted icon of The Holy Trinity (Andrei Rubliov)
The Holy Trinity icon was painted in about 1410 by the famous monk, icon painter, Andrei Rublev from The Holy Trinity Monastery .

The Christian doctrine of the Trinity (Latin: Trinitas, lit. 'triad', from trinus, "threefold") holds that God is three consubstantial persons or hypostases—the Father, the Son (Jesus Christ), and the Holy Spirit — as "one God in three Divine Persons". The three persons are distinct, yet are one "substance, essence or nature" (homoousios). In this context, a "nature" is what one is, whereas a "person" is who one is.

Holy Trinity Orthodox Christians celebrate the day after Sunday Pentecost. In the Roman calendar - Holy Trinity Catholic is celebrated the first Sunday after Pentecost.
The Painted Icon of The Holy Trinity (Andrei Rubliov) is available in two sizes: 13cm x 16cm and 16cm x 19cm.

Tags: holy trinity, painted icon on wood