About Us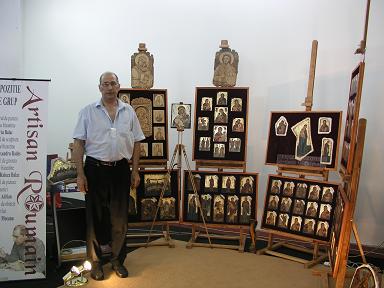 About Me
I painted my first Byzantine Icon 35 years ago. Since then I went to churches, libraries and museums in order to find out how to paint the perfect icon, the one icon that will caress the soul, bring light into our homes, peace and help from The Almighty through the beauty of old byzantine iconography. I want to offer you all those from what I observed and learned. Beyond my work and my passion, I try to understand … Why the hatred, the indifference for the nature, for our peers, the less fortunate than us. What kind of society is this that we have built, and to what good will it might lead? Because I care about people and because I truly love this world and the nature that God blessed us with, I am searching for "The way", and I am inviting you also to do the same.

Yours truly, Liviu Balâc, byzantine icon painter.
Some data on our work.
The quality of our hand painted icons, and the fact that it respects the canons of the church, allowed them to be placed in the monasteries of Bucovina, Bucharest, in the largest stores of Romania or Italy, Germany and France.Our icons are made under the blessing and guidance of Dragomirna Monastery Mother Superior.
The media of our icons is blended class A-B linden wood (tylia cordata). The wood is tested for structural defects such as cracks, rot and mold. The wood is dried under controlled humidity until it reaches 11%. The gold foil is prepared using our own techniques.

The painting is done in acrylics, which are superior to those used in ancient times. The colors used in the painting of ancient icons, have a major drawback they remain soluble after drying. In time, any trace of moisture can damage the colors, compared to those used by us that after drying cannot be washed. Adhesives and special varnishes used in our work, do not contain substances classified as hazardous and are compliant with European standards.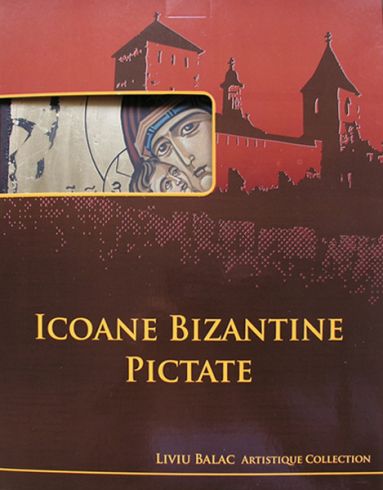 The packaging,
On the package of our icons is the Dragomirna Monastery from Suceava - Romania. We quote from the monastery website (www.dragomirna.ro): "... located between the meek hills of Bucovina, 12 km northward from the former residence of Stephen the Great and the archbishops of Moldova, Dragomirna Monastery rises like a tree through time, between Dragomirna monastery fortress walls .. beyond the beauty of the landscape, the unusual feeling of the site, gives you an unforgettable impression. It is a strange elegance of the monument, with geometric rigor, refined with the proportions and unique silhouette, unit volume of all other Moldovan medieval monastery monuments ... "
Dragomirna Monastery
Mitocul Dragomirnei Village, Suceava County, Romania, tel. 0040 0230 533839,

Additional information: While exiting Suceava, on the road to Putna. Over the double bridge, turn immediately to your right.